A strong posterior chain is an essential part of any strength-training program and what better way to strengthen it than by targeting your glutes by using either our Booty Bands or Fabric Loop Bands.
Most people believe that by performing lower body exercises such as squats is simply enough however if you're unaccustomed to "turning on" or using your glutes correctly, you'll end up unconsciously placing stress and tension on the surrounding muscles.
Many jobs now require people sitting down for a large part of their day leading to the glute muscles becoming more dormant than they should. This results in the muscles along your posterior chain becoming lax resulting in bad posture which can lead to a nasty blend of low back and neck pain.
Activating your glutes during your workouts is not only a faster, more efficient way to sculpt your behind, but it is also essential in preventing pain and injuries and will help you develop strength with your compound lifts including squats and deadlifts. So grab a set of bands and give these glute activation exercises a try.
What's the difference between the Booty Bands and the Fabric Loop Bands?
The Booty Bands offer 3 different resistances are slightly thicker, offer varying different lengths, feature two internal rubber grip strips to prevent the band slipping or coiling when performing any exercise and offer greater resistance than the Fabric Loop Bands.
This is compared with the Fabric Loop Bands which are equally tear-resistant, elastic and extremely flexible. The Fabric Loop Bands are consistently the same width and legth and vary in thickness to provide five different resistance strengths.

Banded Bridge
Begin by laying on your back on the floor, your booty band placed above your knees.
Your knees should be bent with heels placed firmly close to your behind.
Place your hands flat, palms down, on either side of your body
Engage your glute and drive your hips up, pushing through your heels and hold for a second at the top before lowering.
When driving up ensure that you are pushing your knees outwards against the band.
Banded Squat
Begin by standing with your feet hip width apart and place the booty band above your knees.
Engage your glutes and push your hips back into a squat.
Keep your weight in your heels, knees out as you push back into a standing position.
Optional: To increase the tension try pulsing at the bottom before coming to a complete stand.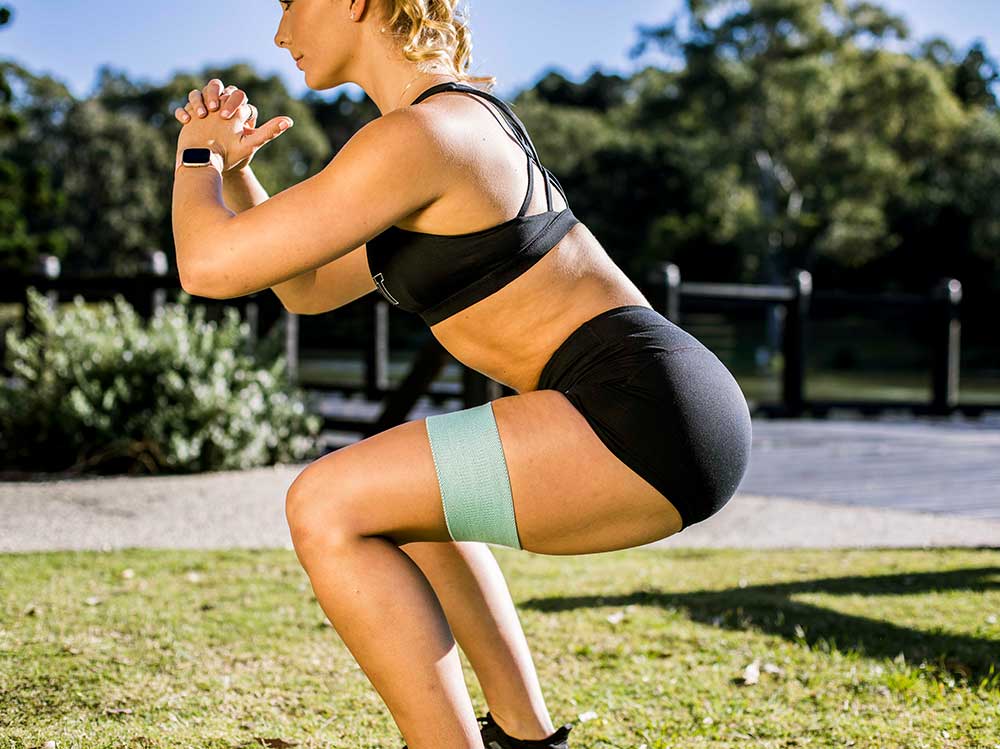 Banded Clam
Begin by lying on your side, propping yourself up on your forearm.
Place your booty band above your knees and slightly bend them, placing one foot on top of the other.
Keeping your feet together, lift the top knee open toward the ceiling, hold for a second and lower.
Repeat for desired reps before switching sides.
Lateral Banded Walk
Stand up with your feet hip width apart and place the booty band above your knees.
Turn your feet inwards slightly and bend your knees.
Take steps laterally, pushing your knees against the full resistance of the band.
Repeat in the opposite direction.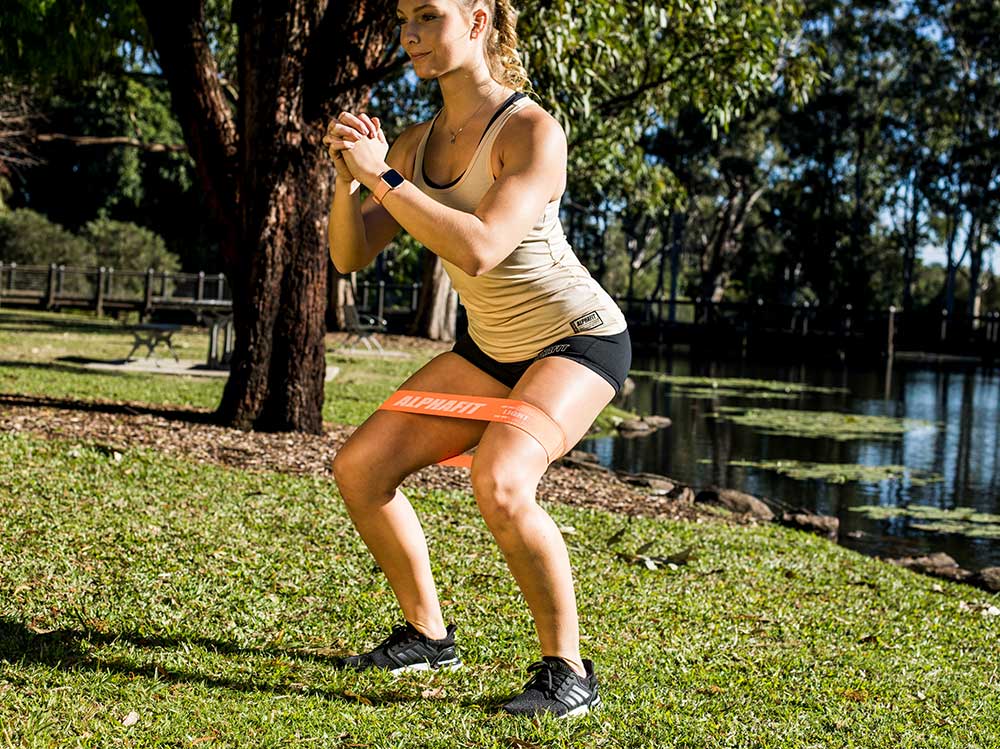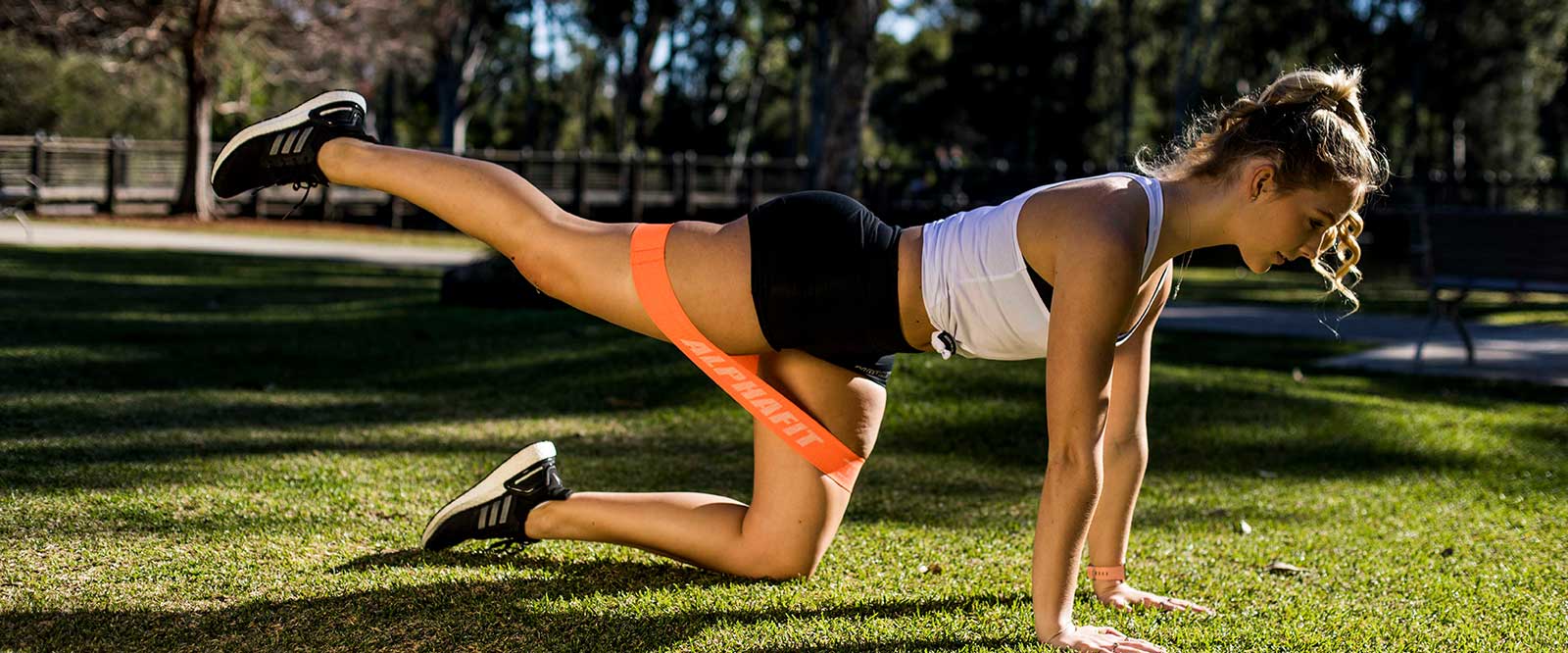 Banded Donkey Kicks
Place your hands and knees on the floor, hands shoulder width apart, knees hip width apart.
Place the booty band just above your knee.
Keeping your legs locked in a 90 degree angle, engage your glutes and kick your foot upwards toward the ceiling.
Lower your knee back towards the ground and change legs.
Hip Abduction
Sit on a bench and place the booty band above your knees.
Keep your feet shoulder width apart flat on the floor and place your hands firmly on the edge of the bench.
Pulse your knees outwards, keeping your feet planted on the ground.