A week has passed since the first leg of the 2020 Reebok CrossFit Games was completed, with the #FinalFive men and women securing their ticket to the in-person competition in Aromas this October. While this year's 'Road to the Ranch' has come to an end for AlphaFit athlete Kara Saunders, there's no doubt she's thankful for the opportunity and remains fired up for 2021.
We chat with Kara about what it was like competing in the virtual arena for Stage One, the challenges and triumphs of elite competition with a child, and the hopes and predictions this CrossFit super-mum has for the future of the sport.
---
Firstly, a massive congratulations on placing 8th in Stage One of the 2020 CrossFit Games! Falling just 9 points behind 5th place qualifier Kari Pearce must bring on mixed emotions. Reflecting on the two days, how would you describe your feelings post-comp?
Kara: It's taken me a few days to figure out how I feel. I've never not qualified before so this was quite new to me. My common sense knows that I just started fresh from having a baby and have a lot more on my plate now with her, but my competitive side that has incredibly high standards of myself doesn't really accept that. It's been a while since I've been disappointed in something like this before which is actually a really good thing. I'm so keen to train and build beyond where I've ever been now and never feel that disappointment again. That's a lot more dangerous for my competitors ;-)
There were plenty of predictions thrown around before Stage 1 of this year's CrossFit Games. Do you think you take any of those on board, whether they are about you or your competitors?
Kara: Not really. Media and outside sources hype so many things up and are almost always wrong. Every year they focus on some athlete being the next best thing and then they never are. I just run my own race and try to not listen to the noise too much.
You've completed plenty of 'The Girls' benchmark workouts in the past, what was your take on the 'Friendly' 'Damn' and 'Awful' spin Dave Castro put on the WODs?
Kara: It's been so so long since I have really done any of these to be honest. I'm familiar with them but it's not something we practice often. Friendly Fran was one of the worst workouts I've ever done because I'm good at it. I can push so much more and really write myself off which is never fun haha. Damn Diane was really fun but I'm not great at deficit HSPU so I was a little slower. Awful Annie is borderline dangerous with that volume of GHD's so it's not something I would recommend doing too often that's for sure. I think personally that it would have been a more balanced workout to have a heavier clean or double rep cleans at that weight as it was just all GHD's and the other stuff didn't really give anyone an opportunity to be caught out.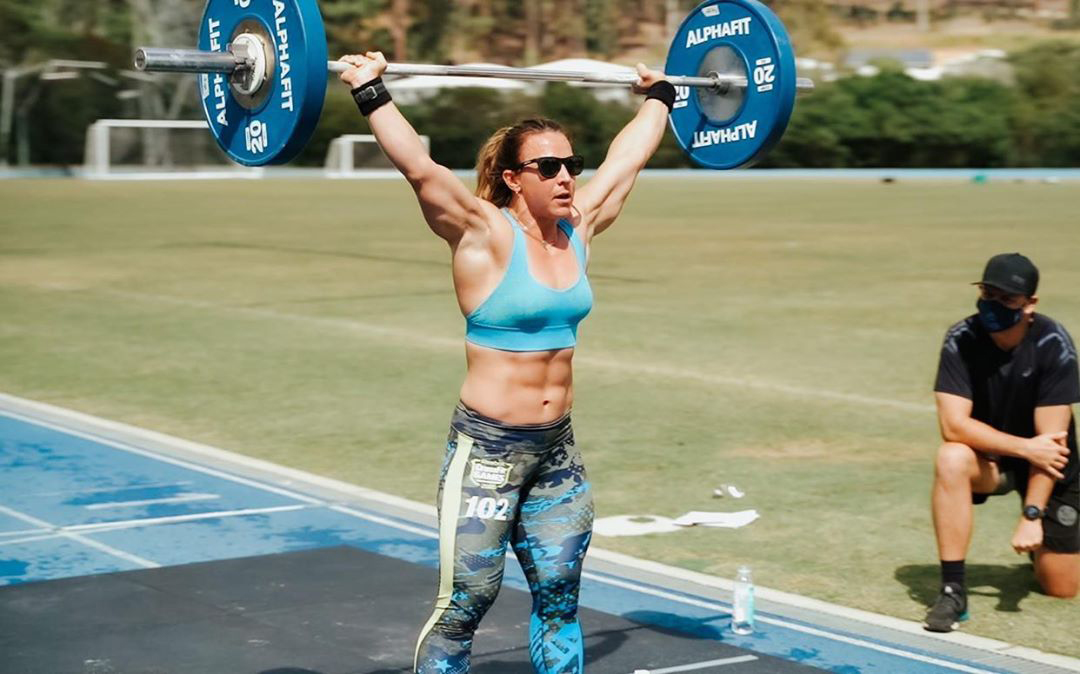 Which event surprised you the most while you were in it?
Kara: I was rowing fast and felt quite good and thought it was a trap so I was too cautious. I was surprised at the end that I rowed that pace and I was actually pretty fine. This was a massive competition error because it probably cost me qualifying, but it caught me off guard that I was fitter than I thought.
Describe what it was like competing against yourself, in a local Affiliate with a capsule crew, rather than on a stage, beside competitors with a roaring crowd.
Kara: Nowhere near the same as the Games. It was more like the Open but not even as hyped because no one was there doing it with me. For me it felt like I had to go crazy and pretend to compete in the gym with my kid running around and normal life going on. This year it was really hard to get in the zone because I didn't travel away from my normal environment. Usually I'm out of sight so I get left alone to concentrate but I was being pulled in all directions this time and never really had a chance to act and feel like an athlete.
How important is music and atmosphere to competing for this virtual/online format? Which songs are on high rotation in your 'pump up' playlist?
Kara: I've never been too precious about my music choice to be honest. I just get the work done and if music is on then that's cool, but I'll happily carry on without it. I like to match my mood with music if I do put music on though. Sometimes it's chilled surf music, other times it's Beyonce and Prodigy haha.
With the time difference, Australian athletes were the first to compete in each WOD. What was it like competing so far in advance and having to keep your performance and times under wraps?
Kara: Not great. I was paranoid that someone was going to give my score away to someone who hadn't competed yet, and I had to wait until halfway through the next day to know where I was placing. Usually I am in the final heat and have the luxury of knowing how and when to push. It's a good test for me though and has taught me to just go harder all the time no matter what.
Did you and your coach strategise your approach to the competition differently because of the format? If yes, in what way?
Kara: No, not really. We just spoke about each individual event and how I needed to attack it to get the best result.
You've competed in a few elite level competitions since having Scotti now. Does the preparation get any easier?
Kara: haha not really. The nerves are always there and Scotti changes so much as time goes on so our routine, prep and focus is so different each time. I competed when she was 4.5 months, 10 months, 1 year and now at 16 months and each time has been so different because she has different needs. This was by far the hardest because she's a real little person now and much more demanding and reckless haha.
You truly are a pro when it comes to competing on the world-stage now. What are 5 'non-negotiables' to have on hand for elite level competitions?
Kara:
Good nutrition and supplementation planned and prepped in advance.
Comfortable clothes or other comforts for between events. Sounds silly but it can make a difference to change and switch off to rest in between.
Headphones/earbuds. Sometimes you just need to switch off and block out the noise to chill out.
A resistance band. They will get you prepped, warm and recovered every time.
Your own chalk. Warm up areas can be really bad sometimes. The comfort of having chalk ready just in case is priceless.

What's the biggest challenge in building your capacity back up since your pregnancy? Any surprises so far?
Kara: Probably the fact that you don't get to just build back on your own watch. The whole process would be a lot easier if children had a set schedule for life, but that just doesn't happen. Missing out on sessions or pieces of sessions makes the whole process a lot longer and more exhausting. Aside from that, strength and mobility were challenges I faced that I didn't have before. Fitness is easy with consistency, but pregnancy hormones change your strength and being a mum really challenges your ideal positions. This slows down progress in training a lot.
Coming back to the Games just 16 months after having a child is such motivation for other female athletes. Where do you look for your own inspiration?
Kara: My inspiration has always come from potential. I'm so excited by seeing what is possible rather than what people have done. I've never really been a fan girl of any person in particular but of science, nature and information that I can use to live my best days. I'm driven by succeeding where others struggle to and achieving things that don't seem possible. I've lived through struggle in a few ways over my life and I didn't like it, so I made a choice one day to be the person that does whatever it takes to have no bad days.
In the video footage of this comp, we saw your daughter Scotti was always close by. What is it like having her there, watching you give it your all, and push to your limits?
Kara: Distracting hahaha. I've always wanted her with me for a few reasons. The main reason is that I'm her mum and I really believe she should be with me most of the time and I should be her example to guide her along the way of being a woman in this world. It's important that she sees what I do in every aspect of life so that she can grasp a concept of how things go. I prioritise balance between working hard and having fun and she needs to see that, plus I really like having her around because she's awesome. It's 100% easier without her there but then it wouldn't be as fulfilling or as valuable without her there. I'll take the distraction and maybe less points in the end to share the experience with her.
What are your top tips for recovery between comp WODs, and does it differ from a general day of training?
Kara: I ROMWOD a lot. Constant time to breathe and stretch is super important to me. I've done this for about 5 years now. Nutrition and supplementation are my main forms of recovery and treatment though. I don't often have much time for anything else but I eat and drink all day long so this can have the greatest impact. If I'm being specific I would say my micronutrients in supplement form, collagen and amino's.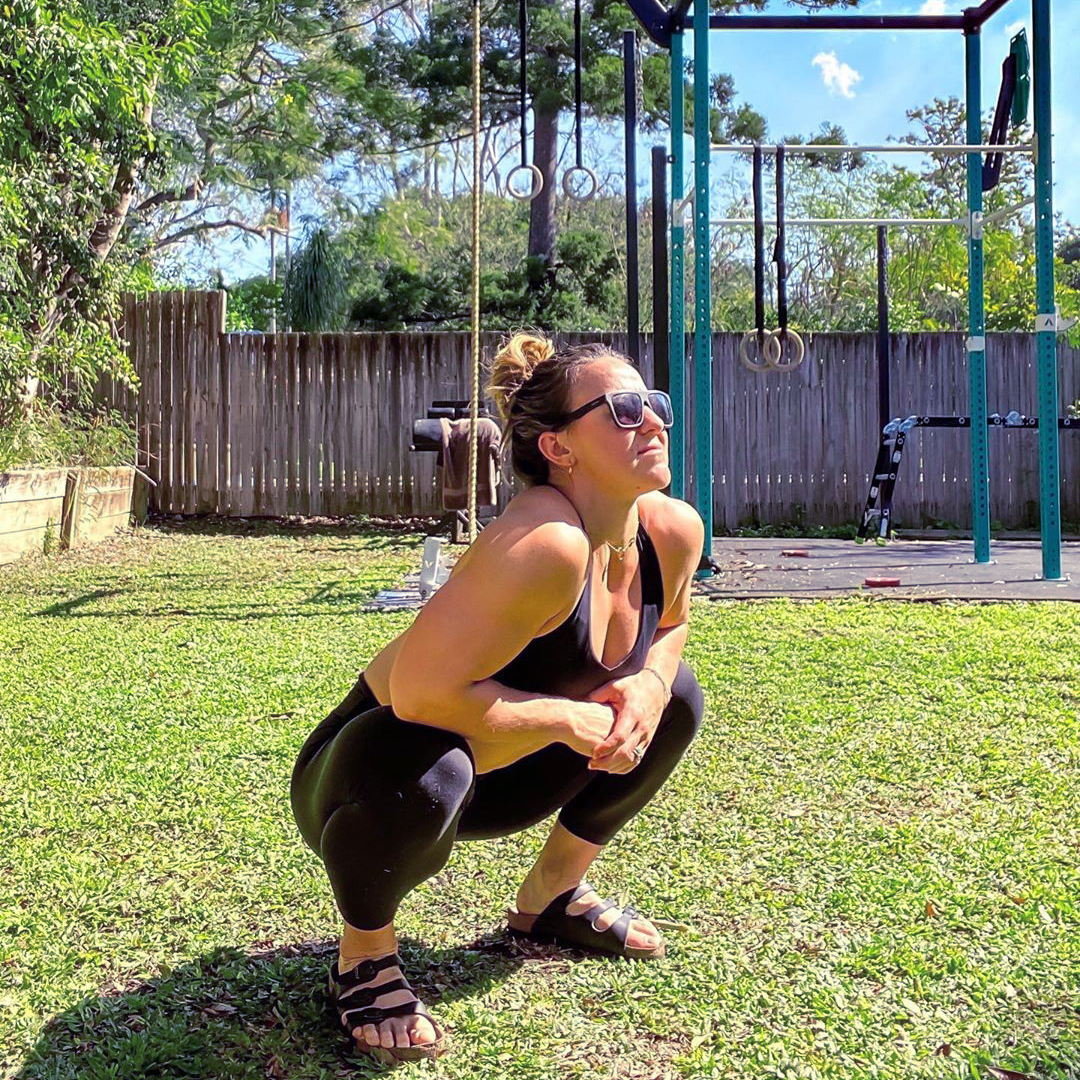 Who is your 'one to watch' prediction for The Games 2020, and the upcoming 2021 season?
Kara: It really depends on how they format the final stage of the Games. Tia is a no brainer over there and I honestly don't think the other girls there will even come close. For 2021, me of course ;-) I don't watch many others and I think on the women's side it really comes down to programming too much. Tia has been the only one to show she can do whatever is thrown at her and the others (including myself this season after Scotti) are too dependent on programming to succeed. Next season this won't be an issue for me. I'm back to level on some things and better on others. I'm yet to have an entire season with my coach and this will be it. Watch out for mumma Saunders ;-)
You were lucky enough to place for a prize payout. We are dying to know, what is the first thing you are going to 'treat yo'self' on?
Kara: I always buy myself one small token after I compete. It's usually a piece of jewellery or something like that so I will probably get something like that. We're looking to move house so at the moment I'm focusing on squirreling any bonus money for a good stress free life and good schooling and opportunities for Scotti. I'm not much of a materialistic person but my goal is to live mortgage free, so I'll keep striving for that.
After a tumultuous year, what are your hopes for the future of CrossFit as a sport?
Kara: Consistency is what the sport and athletes are craving right now. It's been a mess since 2019 and we need to get back to a fair competition and routine. If this doesn't happen the competitive side of the sport will die. Athletes need to know what they're working for and to know that someone isn't going to just change it at the drop of a hat.
Keep up to date with Kara on her social channels: Instagram: @karasaundo | Facebook: Kara Saunders Athlete | YouTube: Kara Saunders
Image credits: supplied