Looking to complete your first ever pull-up but don't know where to start? Here is a step by step guide to getting your head above the bar!
What is a pull up?
The term 'Pull-up' is used to describe many different over-head pulling exercises. For the purpose of this article, we are going to focus on the most well-known variation, using a pronated or overhand grip, placed slightly outside of shoulder width.
The movement starts from a hanging position with the hands placed accordingly. Often overlooked is the position of the rib cage. Adequate core engagement will ensure that the ribcage is locked down to allow the scapulae (shoulder blades) to move smoothly whilst also removing any swing throughout the movement. Pulling begins with the downward rotation and depression of the scapula (shoulder blades) followed closely by adduction and flexion of the shoulder and flexion at the elbow. At the top of the movement your core should still be engaged (no excessive back arch) and your elbows should be next to your rib cage, your head will be slightly above the bar.
What is stopping you?
Technical flaws and your current muscular strength are holding you back from completing your first pull-up!
Technique: Hand position can significantly impact the difficulty of a pull-up. Too wide, or too close can place your muscles in a disadvantaged position. Arching the back and bringing the elbows too wide or too straight will further limit your strength potential and potentially cause significant shoulder discomfort. It is important to focus on keeping a natural posture and pulling your elbows through the scapular plane.
Strength: Once you are in the right position, it is now up to your muscles! If strength is lacking, you are either going to fail or compensate (cheat) your way to the top.
What are the key muscles involved?
A study by Youdas et, al. (2010), shows that certain muscles are active at varying times throughout the pull-up exercise.
His findings outline that the following muscles should be targeted when looking to improve pull-up strength:
lower trapezius (lower traps) - Initiates scapula depression and downward rotation
Pectoralis major (the pecs) - Initiates shoulder adduction
Biceps Brachii (biceps) - Responsible for flexion at the elbow
Latissimus dorsi (lats) - The main contributor to shoulder adduction and extension
It should be noted that the muscles of the hand and forearm, rotator cuff and core will also be active during a pull-up, though they are less likely to be the limiting factor in pull-up completion!
How to build up strength
Now that you know which muscles are involved, it's time to get them strong!
Firstly, particular movement patterns must be used to recruit the appropriate muscles. In this case, this will include most forms of rowing and pull-down or pull-up exercises. Secondly, because strength is incredibly specific, and we are talking about completing a maximal effort task, you need to be using a rep range that is close to maximal. This means that the focus should be on the 1-6 rep range. Exercises that use a similar loading pattern such as the lat-pulldown, barbell row, cable row, inverted row, dumbbell row, T-bar row, and assisted chin-ups can be utilized for pull-up specific strength development.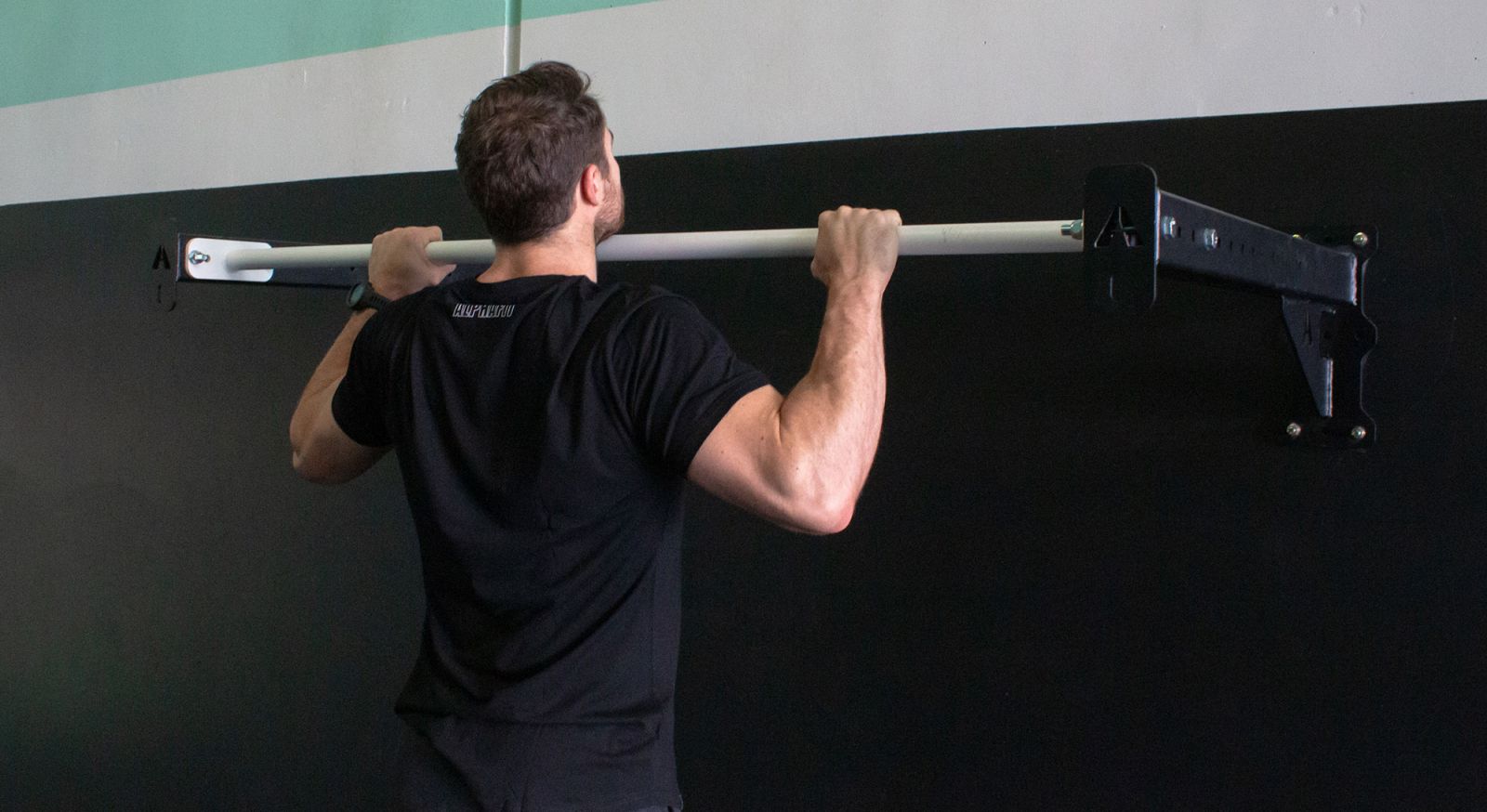 Step by step guide to success
Depending on where you are at with your strength, the path to pull-up will take a varying amount of time. Ensure that you complete each step before moving on to the next!
Step 1. Base Strength
Generally, improving strength requires you to have anywhere from 24-72 hours rest between sessions depending on the volume of training, focus on recovery and nutritional intake. As we are going to keep the rep range quite low, this will be a 3 session per week plan!
Using any of the exercises mentioned above, select a weight that is challenging, yet allows you to complete the repetitions in a controlled manner.
Session 1: 3 sets of 5 repetitions
Session 2: 4 sets of 4 repetitions
Session 3: 5 sets of 3 repetitions
Perform these sets immediately after your warm up to ensure there is minimal fatigue. After completing your strength sets, feel free to add 3-4 pulling exercises for 3 sets of 4-8 reps.
PASS MARK: Lat-pulldown or cable row using your bodyweight for 3 reps.
Step 2. Specificity
Once your strength has progressed to the point that you are now capable of lifting your bodyweight, you will need to start performing exercises that closely mirror the pullup pattern. The obvious go-to is the assisted chin up, though we are going to include some bodyweight eccentrics and isometrics as well.
Session 1: 3x5 eccentric pullup lowers
Session 2: 3x4 5-second Isometric holds at the midpoint of the pull-up
Session 3: 4x2 assisted chin-ups using a machine or band
Again, the reps should be completed in a controlled manner, maintaining proper postural position throughout.
PASS MARK: 2 assisted chin-ups with 5% of bodyweight assistance
Step 3. Pull up glory
Now it is time.
If you can complete two slightly assisted pull-ups, you should be able to complete one bodyweight pull-up!
Remember to use a grip that is slightly outside of shoulder width, brace your core and retract your shoulder blades as you initiate the movement. Technical competence will not only keep your joints healthy, but it will also keep you strong!
Best of luck!

Check out our range of Wall Mounted Chin Up Bars - Shop Now

About the author
Christopher Dalmau
Bachelor of Science (Physiology)
Masters of Exercise Science (Strength and conditioning)
Head Coach at Legacy Health & Performance
Nutritionist and Exercise Scientist at The Clean 5