An essential piece of equipment for any strength and performance facility
Usually reserved for High Performance and professional training facilities - and very new to the general training scene, Jammer Arm attachments have been found gracing strength facilities and performance centres across the globe for over a decade. Replacing traditional large and bulky pieces by attaching to your existing rig or cage, they offer the modular capability to save valuable floor space whilst still offering the ability to develop athletic power. Easily attached and removed and completely adjustable, they are a must have for any facility looking to provide their clients and athletes with a true option to develop functional power and strength in a fixed plane.
Much more versatile than they look, Jammer Arms can be used for bilateral or unilateral training making them the perfect tool for isolating weaknesses or incorrect imbalance – but also a great option for people who are new to training and require a limited and fixed range of motion to develop safely and efficiently. They can also be used for an extensive range of dynamic, complex explosive or isometric movements including incline, flat or decline bench press, shoulder press, jammer press, one arm rows, shrugs, squats and deadlifts. The training options are endless and limited by your ability to program.
The biggest advantage of Jammer Arms is that they allow athletes to perform explosive lifting movements with a much greater stability and control than free weights by allowing the coach to place the athlete in the correct position and enables them to maintain proper form throughout the whole range of movement. This offers superior safety for athletes moving large loads or undergoing pre-habilitation/rehabilitation.
The AlphaFit Jammer Arms were designed and developed with innovation in mind. Offering three hand positions – low, neutral and high and completely height adjustable using the single pin mechanism. Allowing you to easily add, adjust or remove them with ease. Compatible with all AlphaFit rigs and cages and plastic lined to protect your uprights from becoming scratched.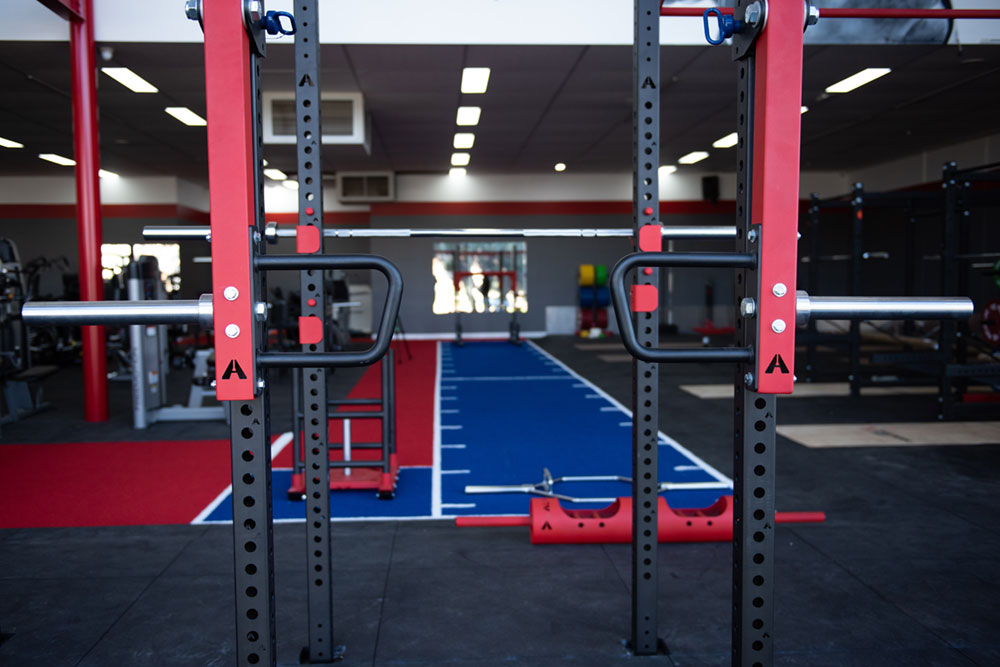 Jammer Arms featured at Training Day Clayton
Three hand positions - low, neutral and high
AlphaFit Jammer Arms feature in the Sydney Roosters' training facility
"The AlphaFit Jammer Arms offer us the ability to be explosive in different movement patterns compared to what can be done with a barbell. We combine both plates and band tension during a variety of bilateral, unilateral and rotational ground-based movements. The fact that they attach so easily on and off our rig make them an incredibly versatile piece of equipment to have in our gym."
Patrick Lane
Strength & Conditioning Coach
Sydney Roosters
AlphaFit Jammer Arms – Shop Online