This year is the 10th anniversary of AlphaFit as a family-owned Gold Coast business and to mark the milestone, we've awarded five Sport Sponsorships to talented young Gold Coast Athletes to help support them to reach their goals.
We're excited to introduce the five recipients of our AlphaFit Sport Sponsorships. Learn a little about each young athlete, how they got into their sport and their hopes for the future.
---
HOLLY WARN
Aged: 13
Sport: Swimming, Track, Cross Country
School: St Hilda's
Tell us about yourself.
My name is Holly, and I am 13yrs old and a Para Swimmer, which means I have a disability. I have been competitively swimming since I was 6 years old but what really got me hooked on the sport was attending my first School State Competition in NSW when I was 8yrs old and taking home a couple of medals.
How did you get into your sport?
I had a stroke before I was born, resulting in Cerebral palsy which had me in rehab pretty much as soon as I was born. This happened to be Hydrotherapy and thus started my love for the water and swimming. I in fact could swim before I could walk!
What's your proudest sporting moment?
So far my proudest sporting moment was gaining two Qualifying times to be able to contest 2 events at the Australian Paralympic Swimming Trials last year before Tokyo.
Who is your sporting idol?
My Swimming idols have changed over the years. Initially, it was Maddison Elliot who shared the same classification as me and was the youngest swimmer at only 13yrs of age to win gold at the Paralympics. This was my dream too. As I got older I fell in love with Ellie Cole, Australia's most decorated Paralympian, and more recently Lakeisha Patterson, who has cerebral palsy like me and has made so many comebacks after having her classification change many times. I have met them all, and they are all so inspiring.
What are your future sporting goals?
My Life Dream has been to get to the Paralympics.
ASPEN ANDERSON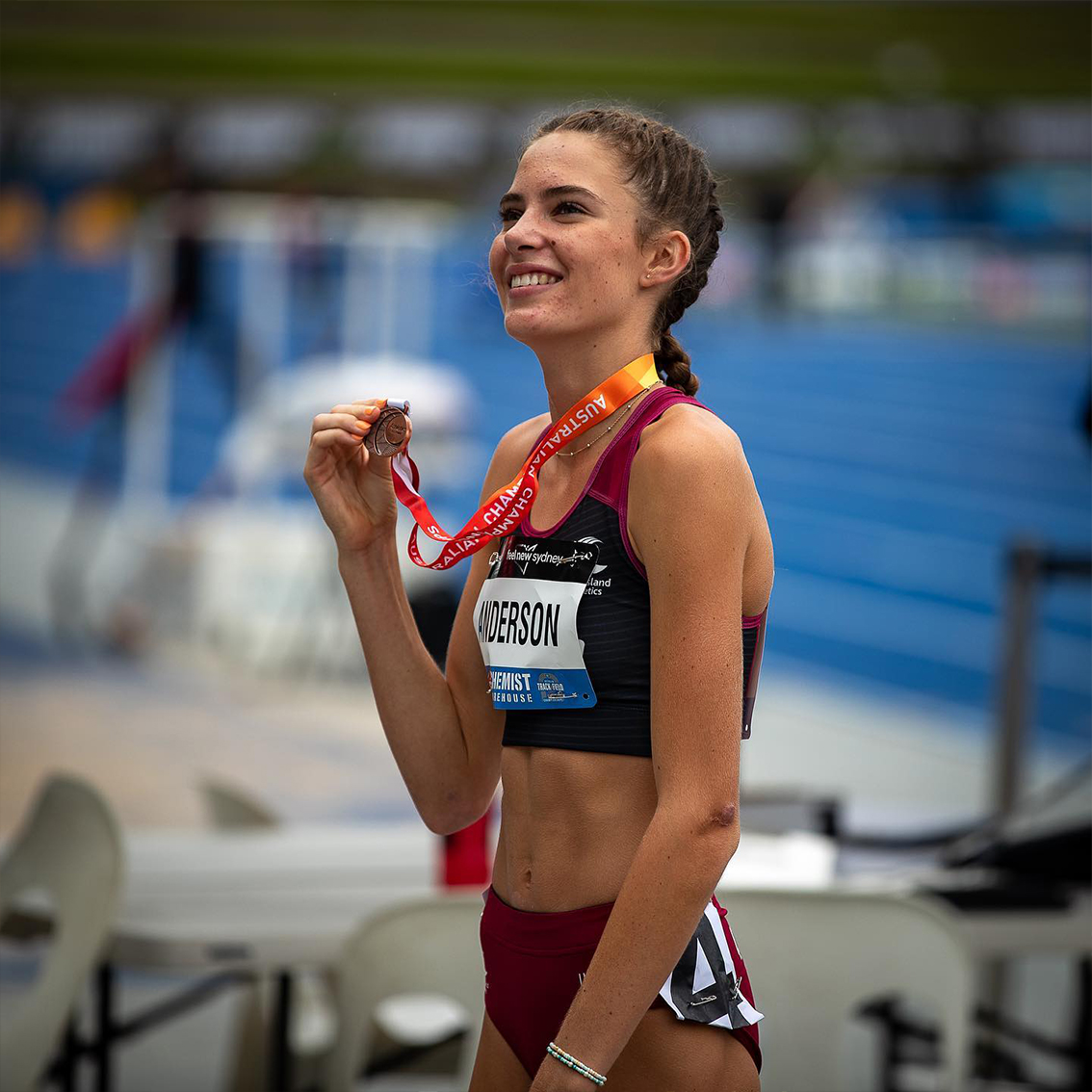 Aged: 15
Sport: Triathlon, Track & Field, Cross Country
School: Somerset College
Tell us about yourself.
I am 15 years old and attend Somerset College currently completing Year 10. I compete in multiple sports including cross country, track and field, and Triathlon. I train with the amazing group Gold Coast Run Co under head coach Jackson Elliott and love every minute of it. I am the eldest of 4 siblings and we all love to challenge ourselves whether it be at the snow skiing, mountain bike riding, or surfing. My go-to drink is coffee and I love nothing more than enjoying an Acai bowl in the sun.
How did you get into your sport?
I got into cross country through the school sports system, but in the early days, I participated in surf lifesaving which allowed me to explore multiple disciplines. Since Year 5 (2016), I have proudly represented the south coast school sports team, gradually progressing to the Queensland school sports team and onto representing Queensland at a national level. My triathlon journey with Triathlon started back in 2019 when I competed in my first race. Since then I have competed at 4 state triathlons medalling each year (3 Gold & 1 Silver), for the past 2 years I have competed Nationally and have been successfully defending my championship wins (2020 & 2021) in the national youth category. This season I have progressed to the Junior age 16-19 sprint distance (750m swim, 20km cycle, 5km run). In the past 12 months, I have begun racing track which has opened many pathways, leading to national competitions and talent squad members.
What do you like most about your sport?
I really love the social aspect of the sport, and interacting with people who have the same aspirations as me. I also enjoy that my chosen sports are really brutally honest, as you get what you put in you get out. There is no hiding you need to work hard.
What's your proudest sporting moment?
I have a couple of proud moments but I think the best would be my world Junior World qualifier time in the 3000m on track. It's a great incentive to keep training hard and hopefully, in the next couple of years I can represent Australia at the world championships. Another would have to be state cross country (2021) where I took out gold in the U16 4km, my first ever state medal, it was a long time coming and something I had been working towards.
Who is your sporting idol?
My sporting idol would have to be Beth Potter and Jessica Hull. Both are gutsy athletes, determined, quietly confident, self-driven, and always race their own race. They are also such humble women and sacrifice so much to pursue their goals.
What are your future sporting goals?
Some of my future sporting goals are:
Qualify for Junior worlds in the 3000m and 5000m Track and Field
Qualify for Junior worlds in triathlon
Competitive in 2026 commonwealth games selection (Triathlon/ TnF)
Competitive in 2028, 2031 Olympic Games (Triathlon / TnF)
JESSICA CLEVERLY
Aged: 15
Sport: Gymnastics
School: St Hilda's
Tell us about yourself.
I was born on the Gold Coast and have been living here my entire life. I am in Year 11 and my favourite subject is Physical Education. I have 2 younger brothers who are twins. My favourite apparatus in gymnastics is the uneven bars and my favourite skill is a Geinger (a release move off the high bar where you do a half-turn layout saulto "flyaway" above the bar to catch the same bar). I also enjoy going to the beach and hanging out with my friends.
How did you get into your sport?
I started gymnastics in Pre-Prep at St Hilda's School when I was 3 years old and then trained at Delta St Hilda's after school. When I was 10, I was invited to trial for the International Program at Delta Brisbane and have been training there ever since. I train 30 hours a week at the Delta Brisbane Kedron venue with Master Coaches Olga and Sasha Belooussov.
What do you like most about your sport?
I love the feeling of being able to fly in the air. I also love the excitement and adrenaline of learning new skills. The social environment is awesome and I get to meet so many new friends from around the country.
What's your proudest sporting moment?
My proudest sporting moment was competing for Queensland and winning gold in the Teams Competition at Nationals in the Junior International Division in 2021.
Who is your sporting idol?
Georgia Godwin is my sporting idol. Georgia went to the 2020 Olympic Games and I am lucky enough to train with her every day. She is always so determined and has shown great perseverance.
What are your future sporting goals?
My future sporting goal is to represent Australia in gymnastics.
KARL ALBERTYN
Aged: 16
Sport: Swimming
School: Varsity College
Tell us about yourself.
Born in South Africa, moved to Australia in 2013. Went to school in Sydney until Year 10, and am now at school on the Gold Coast. I have an older brother and a younger sister, and we live at home with Mum and Dad.
How did you get into your sport?
We lived in Singapore for a while, whilst I was very young. My older brother swam a lot at school, and one day, I decided to join his swimming club, and hop in the water to have a go. It wasn't long before the coaches had me on the club team, and racing in the "Neptune League" in Singapore. From there on, it really was just a natural process where I was absorbed into the system as I was doing so well, and wanted to continue.
What do you like most about your sport?
The swimming community tends to be smaller and closer than those associated with other mainstream sports. I enjoy the sense of camaraderie and fellowship we all enjoy within our own squads and across the clubs around the country. I think there is a misconception in general as to just how difficult swimming is as a sport, and I enjoy sharing the challenges and triumphs with others who can relate to what we are all trying to achieve.
What's your proudest sporting moment?
200m Individual Medley, National Age Championships 2021, Gold Medal, 6 seconds in front, and just 1.5sec off the National record. Exhausted, but luvin' it!
Who is your sporting idol?
Chad le Clos, South African Olympian, and victorious over Michael Phelps by 0.05 sec in the 200m butterfly at the London Olympics.
What are your future sporting goals?
In the near term, whilst I am still 16 years of age, I'd like to get as close as I can to the Aussie Age record for the 200IM. I was very close last year, and I want to give it another shot. Longer-term, in the next 24 months, I have targeted a spot on the Junior Australian Dolphins swimming team, for participation at either Junior Worlds or Junior Commonwealth Games.
LEWIS SYMONDS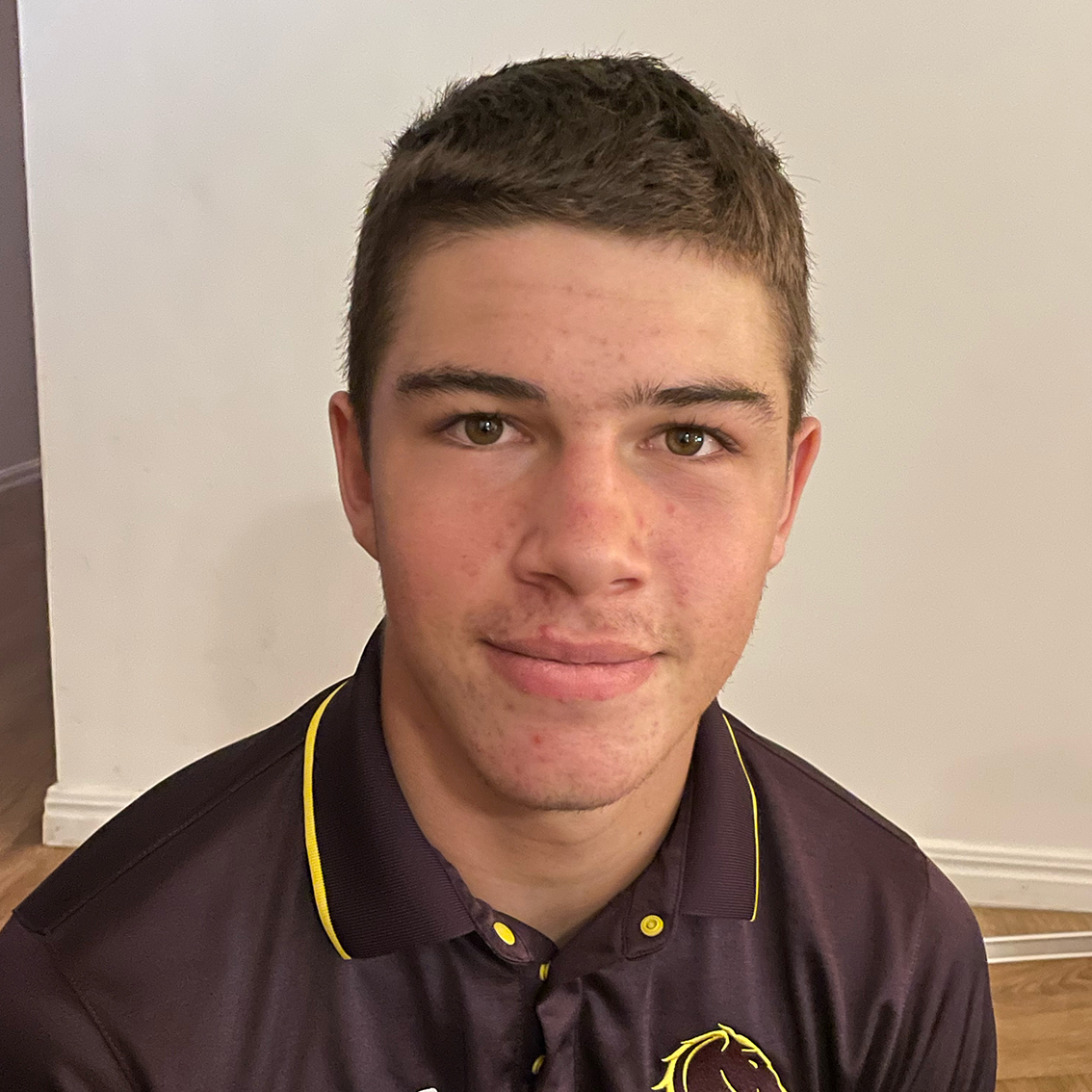 Aged: 16
Sport: Weightlifting
School: Coombabah State High School
Tell us about yourself.
I was born in the UK and moved to Australia when I was 18 months old. Sport has always been a part of my life, from gymnastics at 2 to competing at Little Athletics from 4 and Rugby League from 5 years of age! Over the years of competing in athletics, I mainly took part in Discus, Shot Put, and Hammer and I have won many State and National titles and broken a number of records along the way. In 2019, I took up competitive weightlifting, and in 2021, I was selected into the AWF Pathway Squad and progressed to the Youth Squad at the end of that year, which gained me the qualification for the Commonwealth Youth Games. In 2020, I signed a contract with the Brisbane Broncos in their Academy program.
How did you get into your sport?
Sport has always been a part of our family life. My Dad represented Great Britain at Bobsleigh and at athletics so I guess you can say it's in my blood to compete!
What do you like most about your sport?
In weightlifting, I like to challenge myself to improve in every competition and there is no hiding. I'm literally on a platform in front of a crowd, trying to lift the best I can.
What's your proudest sporting moment?
I have two! Firstly it would be signing a contract with the Brisbane Broncos back in 2020 to be a part of their academy. And secondly, it was being chosen to represent Australia at the Oceania Youth Weightlifting Championships taking place next month.
Who is your sporting idol?
Michael Jordan.
What are your future sporting goals?
To sign an NRL contract.
---