The Southport School (TSS) has a very proud history in sport on the Gold Coast. The School provides extensive, first-class sporting facilities designed to offer a full range of activities for their students. Along with a reputation for providing quality opportunities in physical activities, the school is also renowned for its dedication to sporting excellence in coaching. Over the years, TSS has helped produce many sporting champions through highly professional coaching, mentoring programs and access to state-of-the-art equipment and facilities.
As a member of the Great Public Schools' Association of Queensland (GPS of Qld), the School competes in a wide range of sports and activities. The School's facilities are extensive and impressive, providing for every pertinent academic, sporting, cultural and social aspect of a student's development in the fullest sense.
To maximise the space available for their new gym fitout, AlphaFit needed to ensure the functional training area complemented the traditional strength training needs of the students. This was achieved by providing a range of customised equipment including a 9 cell freestanding rig that can cater for up to 54 students at a time, 9 x incline benches, 9 x flat benches, 2 x GHDs, 2 x bench pulls, 2 x bench presses and 4 x push/pull sleds.
Storage of equipment and general cleanliness are a major factor when fitting out any space. Often this is overlooked; every implement should have a place in the gym. After consultation with the strength and conditioning coaches, AlphaFit provided TSS with a modular storage system, bar storage cubes and three tier dumbbell racks to solve their storage needs.
AlphaFit have delivered a long-term solution in which the The Southport School have confidence the range of equipment provided will support the needs of all coaches, staff and students.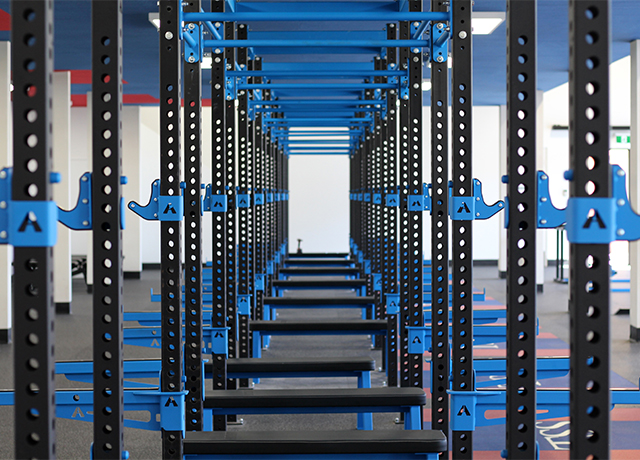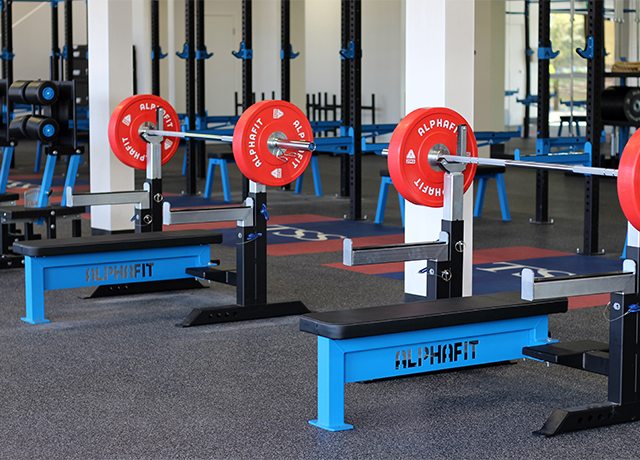 "WE COULDN'T BE HAPPIER WITH THE FIT OUT IN THE NEW TRAINING FACILITY"
"In late 2017, The Southport School decided to update its Strength and Conditioning Centre. In conjunction with Jamie and the team from AlphaFit we were able to effectively outfit the new facility with high quality and durable equipment. Throughout the process, the AlphaFit team were efficient and maintained their installation times without delay. From the initial consultation to full installation and delivery, the AlphaFit team displayed friendliness and professionalism. We couldn't be happier with the fit out in the new training facility."

Damian Mednis
Director of Athletic Performance and Director of Track and Field
The Southport School, Gold Coast