Kara's life with a little one
It all started sometime in 2010, I joined a gym and it changed my life. At the ripe old age of 20 and living the party life as you do at that age, I soon became a little flat and over it all. I clearly remember the day I realised I didn't feel like I had any direction in my life and my days weren't serving a purpose. What else do you do at that point but ask for help? I went to my mum and she said to me "Come and join the gym I train at." She continued to explain that it would give me purpose each day and if I signed up for a personal trainer then it would be someone to keep me accountable. Since I had nothing to lose, I agreed and started the very next day.
Fast forward a little and somewhere in there, I became a professional CrossFit athlete. After successfully competing for almost 8 years I decided to take a break from the hustle and start my (hopefully) growing family. Bam! One week after the CrossFit Games I was pregnant with my now wild 7-month-old baby girl, Scotti. This was about to be a wild ride and I don't think anyone could ever have prepared me for it. Luckily the CrossFit Games is all about that, being prepared for anything mentally and physically so I was able to roll with the punches of pregnancy and enjoy the ride. Scotti girl grew as I trained as best and as safely as I could until it no longer served us, and a week later she arrived.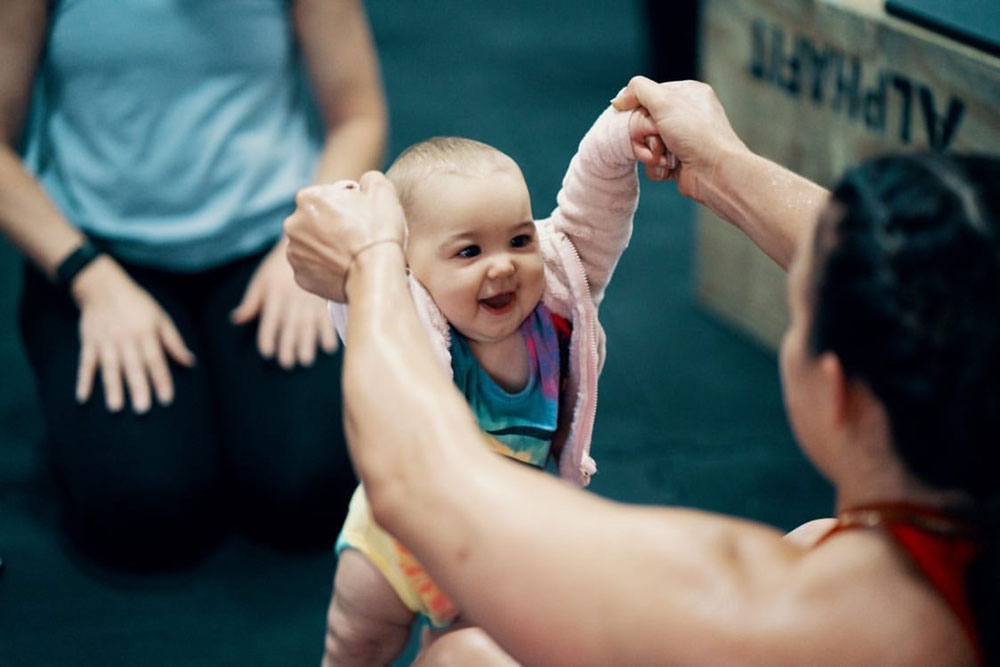 Images by @hsmithphoto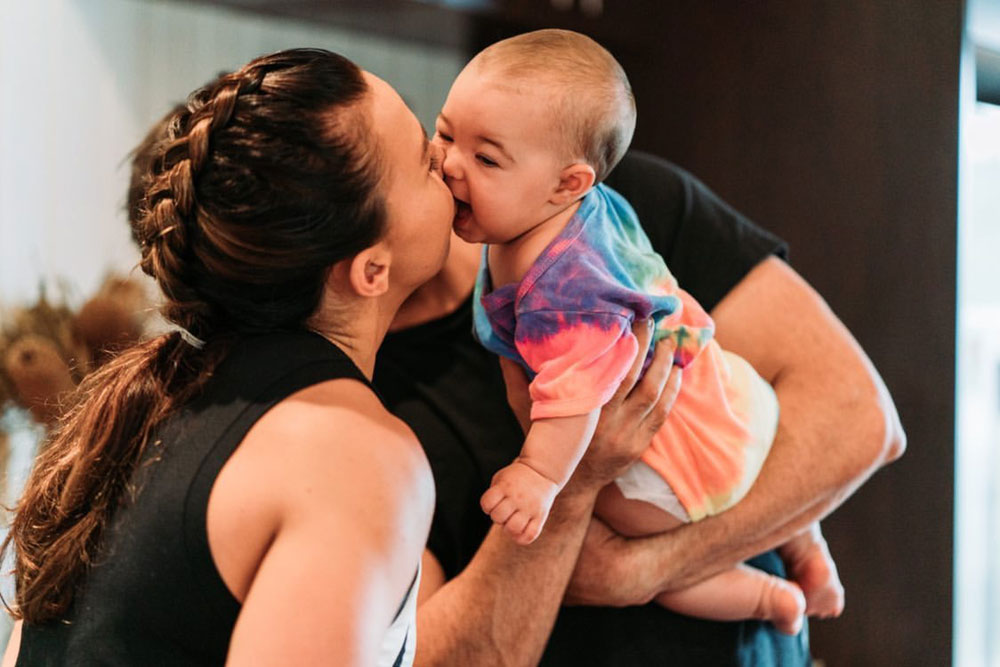 Now enter the postpartum phase, I like to call it the deep end. Not only do you come home with this tiny person that you are now entirely responsible for and have no idea what you're doing, but you're exhausted and somehow need to heal and almost rebuild yourself entirely from scratch...on minimal sleep and with an infant glued to you.
I'm no professional when it comes to motherhood (who is), but there's one thing I do know, and it's this: in 2010 when I was stuck feeling flat I went to the gym and it made me feel better. I went alone most of the time and no one knew what I could or couldn't do and nor did they care. What happened every single day though is I moved my body, burnt any nervous or anxious energy away, released endorphins and slowly built a solid foundation of self-confidence because I was giving back to my body and it LOVED it. For the first time in a long time, I genuinely liked myself and the way I looked and felt. The reason I come back to this is that in this postpartum phase, this absolutely amazing yet probably most difficult period of your life, you NEED that!
FORGET THE BOUNCE BACK!
Forget the level of fitness you once had and forget what you knew of yourself. This is why it's important, and why I prioritised getting back into the gym as soon as I could postpartum.
Mental health. Sitting inside the house all day with a little person yelling at you can feel like you're drowning. Get out of the house!
ENDORPHINS! It's a chemical thing and it's real. Movement releases all good feels and can fill your cup a little. Those feel-good hormones can also help level you out and prevent any extra unnecessary tension with your partner.
The right kind of steady movement can help stimulate healing after labour. Pay attention to the "steady" part.
Feeling like you're giving back to yourself will make you feel more motivated to give back to others. This includes more patience with your little one.
Social interaction with adults. If you have a child, you know how important this is.
We are designed to move. Every reaction and function within our body is directly improved by movement, including but not limited to digestion, metabolism, sleep, and recovery.
Finally, routine. Routine is a stepping stone for success and something babies and new mums can thrive on when the days just roll into one another in the postpartum blur.
Image by @w._media
The list of why getting moving again postpartum could go on forever, but who's got time for that right now. You get the message. For me as a professional athlete and the owner of a gym, it's a little easier to make this happen than it is for your average Mumma Bear, I'm one hundred percent aware of that. It pays my bills, it's all I've ever known and it's what I do well, so don't ever compare your journey to mine, or anyone else's for that matter.
I happen to have trained a lot of women through this and now I have lived it - I've come up with some pointers and reminders for anyone trying to navigate their way through postpartum or supporting someone in the postpartum phase, and trying to incorporate some physical activity into that tornado. I've broken these down into two categories. Remember everyone is different and the recipe needs to be amended a little. This is my basic foundation. Let's do this, and let's move forward.
1 | MINDSET
Get this construction underway before you step foot in the gym. Rome wasn't built in a day so you don't need it to be perfect before you start, but you need to have some strategies in place to keep things rolling.
No one cares what you look like right now, and if they do they're not your people so who cares. We all judge ourselves more than anyone else does because we know ourselves the most. One day this will be a distant memory. Don't waste a single second holding yourself back with negative thoughts of self-hate or judgement.
Showing up is the hardest part. Exhaustion and stress will be like a riptide pulling you back but just know that even putting your clothes on and driving to the gym is a massive part of building some consistency, and you're already on the way to feeling better.
You will not be able to do what you could before and your body is not the same. Start with a clean slate and get to know your new self. Don't look for the old you, because she's gone. You've got some of her old qualities but you're different now - better in fact. You just need to learn it all again.
Book it in. I write training on my to-do list so its a task that needs to be completed for the day. Cross that bad boy off when you're done and feel like a champion.
If you can find someone to join in with you, do it.
NEVER EVER let yourself feel like a victim to your situation. You're a mother and it's equally difficult and amazing. The victim mindset makes your day very difficult, and you just don't need that. Be the Queen, overcoming every obstacle because you're strong like that.
2 | TRAINING
These are the stages of starting back in the gym that I've gone through. There's no shortcut.
Gentle sweat in an aerobic zone. This is 20-40 minutes of low-intensity movement without load, but lots of emphasis on belly breathing. You should have that nice glowing sweat. This is a perfect way to just get started with no pressure. Include pelvic floor work for 20-30 minutes or so per day.
Activation work. This is the time to switch all of the muscles back on after resting. Think static holds or gentle repetitions of glute bridges, postpartum friendly midline activations, overhead plate holds, bent over rows, etc. These movements should encourage good positions.
Start incorporating shorter high-intensity sessions with rest built-in, and nothing too advanced in the way of movements. This phase is rebuilding the conditioning so it doesn't feel great.
Skill work. At this point in time, all of the skills are a little rusty. Spend some time learning to do them in small quantities.
Start to combine all movements with the aerobic work.
Combine all movements with some intensity.
Build on the volume and gain some muscular endurance back.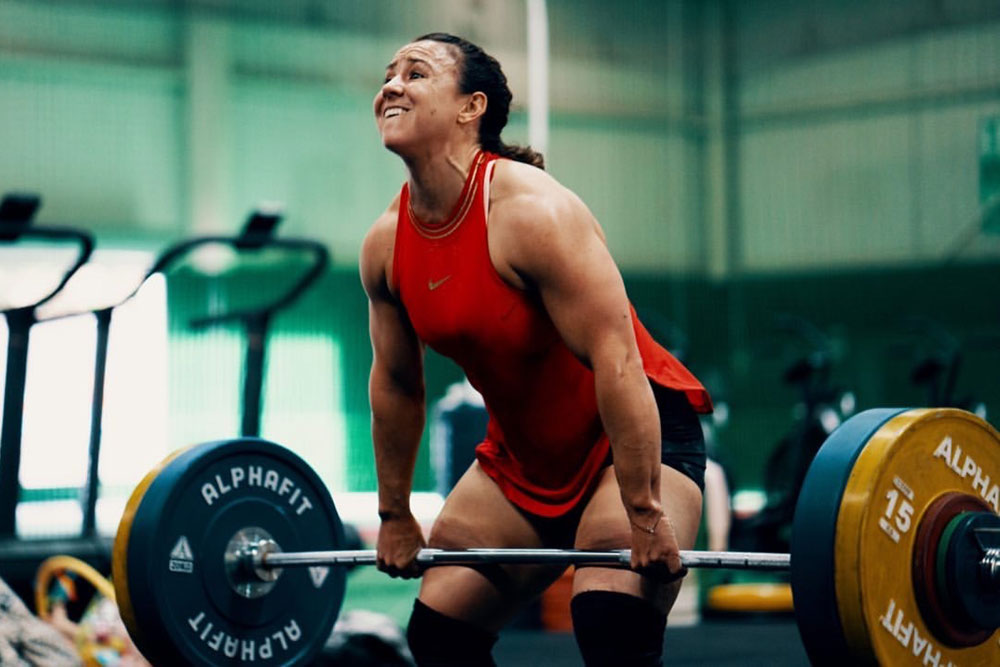 Images by @hsmithphoto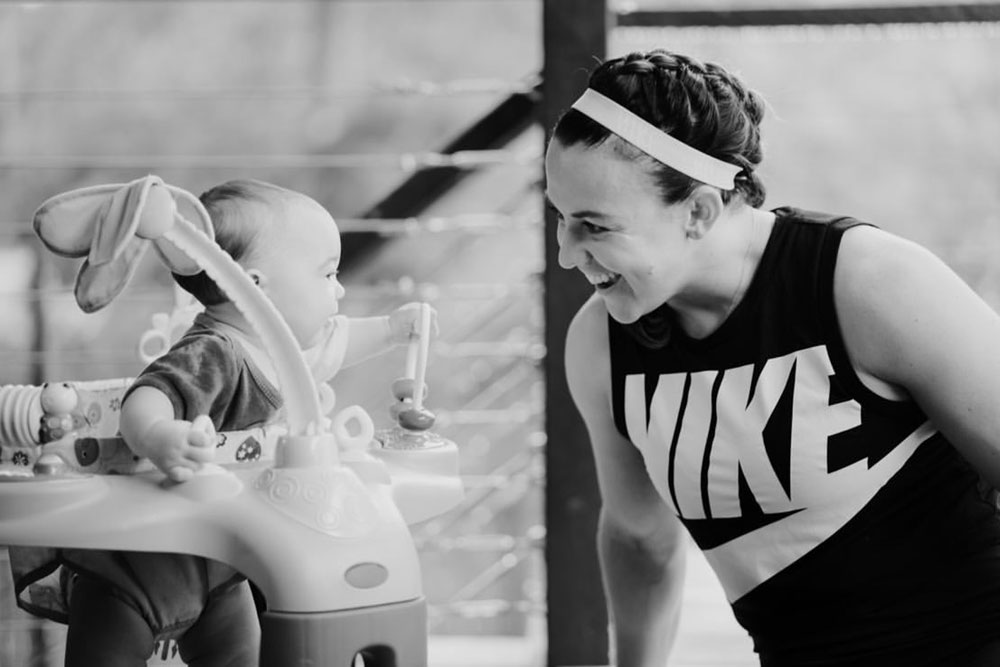 Author: Kara Saunders
Instagram: @karasaundo | Facebook: www.facebook.com/Karasaundersathlete/