Up the ante and add a weight vest during your next workout.
Your training will never plateau again as you add weight to increase strength, burn calories and improve your cardio fitness. AlphaFit Weight Vests are made from super strong, ultra durable nylon and fully adjustable with a Velcro strap to secure around your body to keep firmly in place. Transform just about any activity into a resistance exercise by adding a weighted vest into the equation.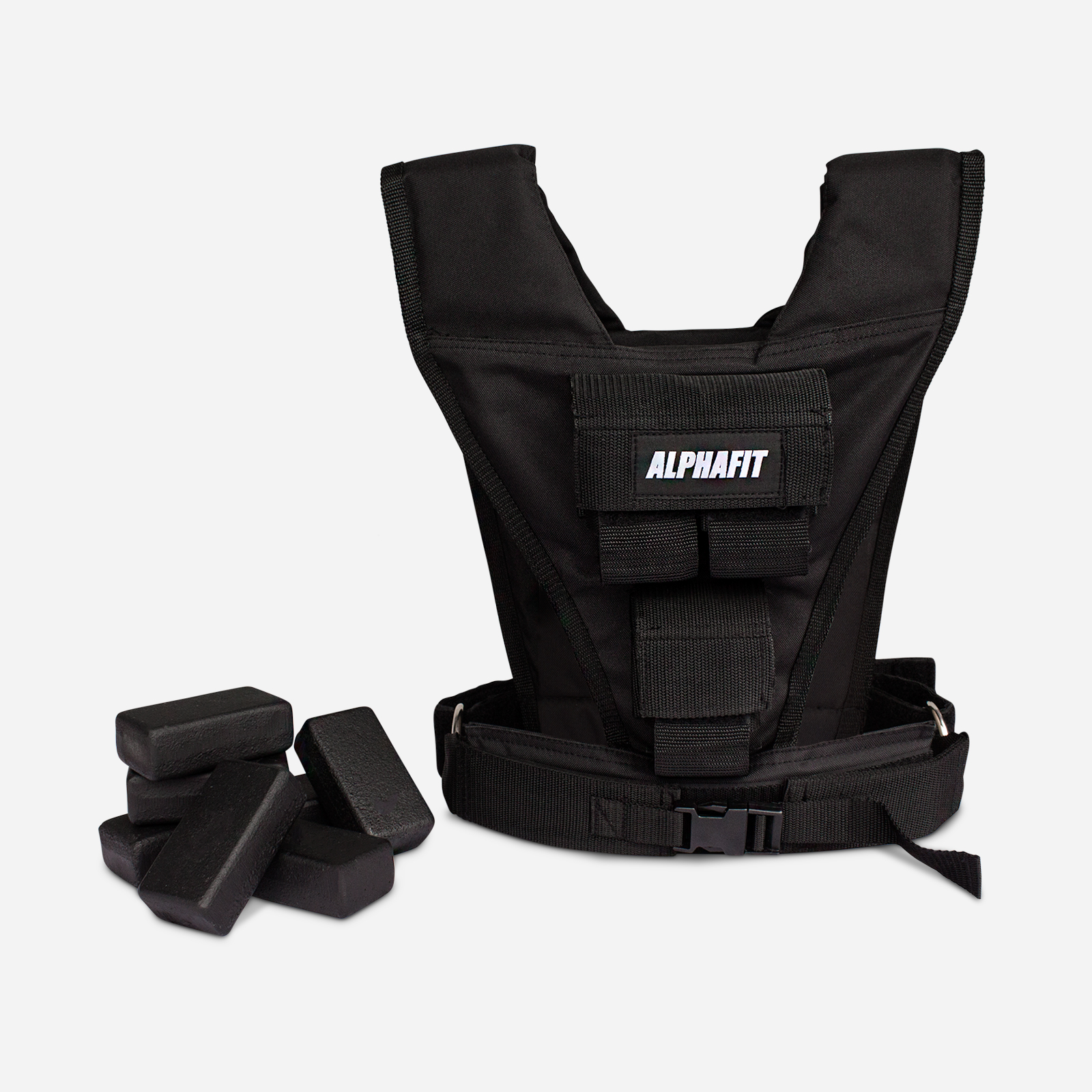 AlphaFit 10kg Weight Vest
AlphaFit 30kg Weight Vest
Challenge accepted. It's time to load up.
No matter what type of exercise you're doing, there is always a way to step it up and make things even more of a challenge. Whether you're in the CrossFit box sweating through a 'Murph' or 'Gunny' or you just want some additional load on a trail run or hike, a weighted vest will add the extra heft you're looking for to push your workout to the next level.
Our vests allow you to start slow and add weight 1kg at a time. By enabling you to remove and add weight to your vest incrementally as your capacity increases, it is easy to see how important this versatile piece of kit is to your training arsenal. Keeping your posture strong and your movement free, your body will be working harder and burning calories faster as your engine builds.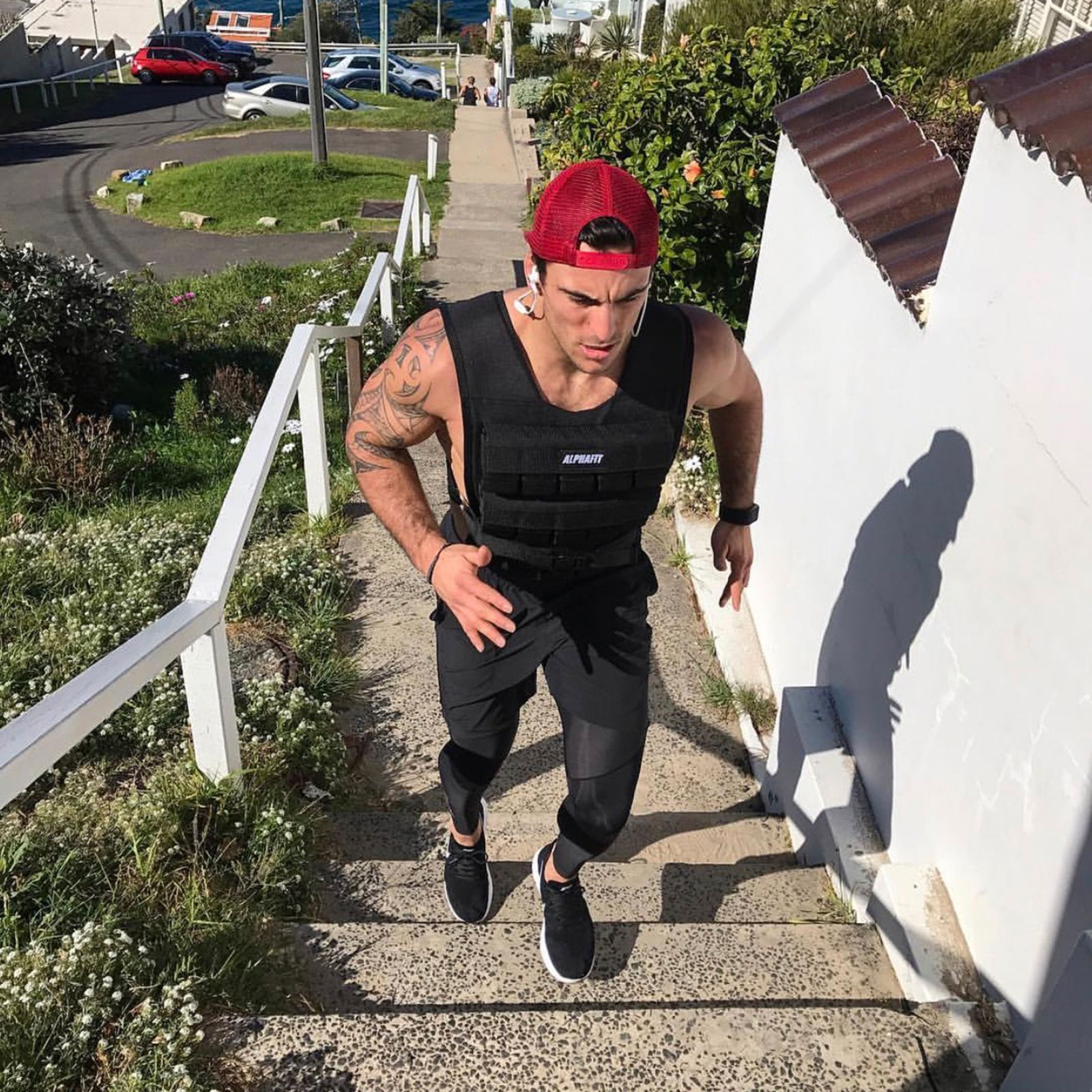 Move freely and watch the sweat pour.
The added load of the vest makes any bodyweight moves more effective without drastically altering your form. It gives you a simple option to switch up your workouts on a whim, enabling you to keep your hands free and leave the dumbbells, barbells back on the rack. By keeping the weight in close proximity to the centre of your torso, you have the ability to move smoother and get more out of your workout.
Training with a weighted vest can completely revolutionise your workout regimen and maximise your results. So what are you waiting for? Step up your game and strap a vest on your back to push yourself just that little bit harder at your next training session.
New to weight vest training? Here are our tips:
It's very simple to turn a bodyweight workout into a difficult routine by simply putting on a weighted vest. While weight vest training is considered safe, there are a few things you should keep in mind.
1. Be sure to ease your way in. To get your body used to the extra load, it's a good idea to start light and gradually add the 1kg weights. For example, consider starting with adding just 2% of your body weight to the vest.
2. Fit it like a second skin. Tighten up your vest so it sits close to your body and won't bounce or shift noticeably when performing exercises. The more it comfortably hugs your torso, the less likely you are to make changes to your natural movement patterns.
3. Start with the basics. Begin your weighted vest training with simple body weight exercises and focus on form. Going too heavy too soon will only open up the chance of injury. Ease your way in and increase difficulty and weight after you've grown accustomed to wearing your vest.
Feeling a little uninspired? Create your own workout from the below few movements to start. Choose 5 from the list and perform each exercise for 1 minute with a 30 second break before continuing to the next exercise. Repeat the circuit four times. Try bulgarian split squats, box jumps, plyometric skater jumps, mountain climbers, burpees, pistol squats, side plank holds and even high knee running. This is just a simple start to your new body weight routine.
Got a weighted vest workout you love? Tag us wearing your AlphaFit Weight Vest @alphafit_aus for your chance to be featured!
Shop our full range of AlphaFit Weighted Vests [here].